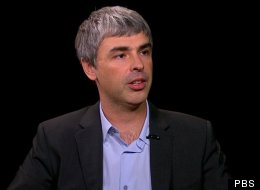 Google co-founder and CEO Larry Page appeared on "Charlie Rose" Monday, and it was obvious something has been bothering him: Facebook.
After announcing his excitement overChrome becoming the most used web browser in the world, Page spoke about thechallenge of working with Facebook. According to Page, while Google has been fairly open about sharing its data with Facebook, the social network has not been reciprocating.
"It's been unfortunate that Facebook has been pretty closed with their data," Page told Rose. "In general, we'd like to see content on the Internet being made more open."
Page described a particular issue Google has had with Facebook over letting users transfer their contacts across the two company's services:
From a user's perspective, you say I'm joining Facebook. I want my contacts. In Google, we said, fine. You can get them from Google. And the issue we had is that then Facebook said, no, Google, you can't do the reverse. And so we just said, well, users don't understand what they're doing. They're putting data in, and they don't understand they can't take it out. So we said, well, we'll only participate with people who have reciprocity. And we're still waiting.
It's no secret that Google is trying to compete with Facebook in the social realm with its Google+ network. Page, who is in his second year as Google's CEO after taking over the position from Eric Schmidt, said in January that the company is using Google+ to push the company forward along its path toward personalizing individual users' experiences using Google services.


"Engaging with users, really deeply understanding who they are, and delivering things that make sense for them is really, really important. We're at the early stages of that and Google+ is a big effort," Page said during a January earnings call.

Google already has its own trove of user data, but Facebook also houses a massive database of interests, likes, demographic information and much more created by the social network's 900 million active monthly users. And Facebook isn't ready to throw open those data vaults to Google. (By comparison, a recent estimate by Digital Inspiration pegged the number of Google+ profiles at close to 200 million.)

As Google co-founder Sergey Brin recently told The Guardian, one of the threats to the freedom of the Internet is the rise of "restrictive" walls created by Facebook and Apple. Facebook's propriety platform does not allow web surfers to search its content and is thus closing off Google and other search engines from providing users access to any information or apps within the site.

"You have to play by their rules, which are really restrictive," Brin told The Guardianabout Facebook. "The kind of environment that we developed Google in, the reason that we were able to develop a search engine, is the web was so open. Once you get too many rules, that will stifle innovation."

Though Page hopes that Facebook will one day decide to cooperate with Google, he believes that it won't be of their own volition.

"I imagine they'll be forced to eventually," Page told Rose to answer his question of whether Facebook will offer reciprocity. "You don't want to be holding your users hostage."

Facebook CEO Mark Zuckerberg has been markedly quiet about Google+, though he has named Google as one of the companies he admires.

(Check out the video above,

courtesy of VentureBeat

, to watch a clip from Larry Page's interview on "Charlie Rose.")

Check out the gallery below to see Google's five biggest acquisitions.